Language Immersion Montessori
Our continued vision is to give our children the most advanced educational experience possible, preparing them for their future. The Montessori method of education is focused on teaching students to think critically, and work collaboratively.
Mandarin, Spanish and English are the three most spoken languages in the world and we teach these languages because we want to give our children the tools to effectively communicate with the world.
The world is changing, and if we want to give our children an advantage for their future we need to think ahead. One skill that will give them leverage in the future job market is languages. If they can read, write and speak the three most spoken languages in the world then they will have a competency that no other children possess.
​Montessori Language Program (Mandarin, and Spanish)The Montessori Program servers toddlers starting at 2 years old, and the Montessori Primary classroom starts children at 3, and potty trained up to 5 years old. Both programs have a Montessori trained lead teacher who instructs in Spanish/Mandarin and an assistant Spanish/ Chinese teacher.
The Montessori Language Immersion program is the only kind that exists in Arizona.​ Space is limited so plan your child's future and reserve your spot today, call 602-996-4990.
The Montessori Curriculum is child-directed. Kids, with some help from the teacher, can choose their own tasks and activities. they can also work at their own pace, as they're not constrained by a one-size-fits-all curriculum.
In Montessori kids can be found walking around the classroom, working at tables or on the floor, and interacting with each other and the teacher. They're also free to work either on their own or in small groups.
Montessori preschools have lots of concrete learning. Kids work with a wide range of concrete materials, including manipulatives, which are self-correcting puzzles.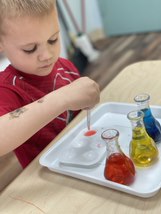 born in Chiaravalle, Italy, on August 31 1870. In spite of contemporary cultural expectations for women, she pursued higher education and earned a medical degree from the University of Rome in 1896 (although she was not, as is often claimed, the first Italian woman to do so). Between 1896 and 1906, Montessori worked with mentally disabled children and continued her research in psychology and education.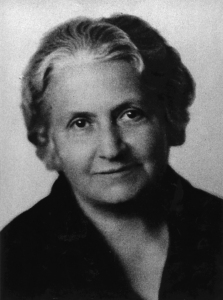 1. The aim of Montessori education is to foster competent, responsible, adaptive citizens who are lifelong learners and problem solvers.
2. Learning occurs in an inquiring, cooperative, nurturing atmosphere. Students increase their own knowledge through self- and teacher-initiated experiences.
3. Learning takes place through the senses. Students learn by manipulating materials and interacting with others.
4. The individual is considered as a whole. The physical, emotional, social, aesthetic, spiritual, and cognitive needs and interests are inseparable and equally important.
5. Respect and caring attitudes for oneself, others, the environment, and all life, is necessary.